Exhibition "The Suppressed Years - Railway and National Socialism in Austria 1938 - 1945"
Exhibition visiting hours
Exhibition will be open daily until 17th March
Sunday- Thursday 8:30-22:00
Friday 8:30-12:30
Free entry
"The railway stations and their logistic capabilities had a major and horrifying part in the massive, industrialized genocide system. It was the most cruel, merciless use of the railway system one could have imagined. We must accept this dark chapter as part of the history of the Austrian railway system. We also have an obligation to remember the victims and learn our lessons for the future"
Andreas Matthä, Chairman of the Board of Management (CEO), Austrian railway company
The railway system played a vital part in the progress and everyday life of Nazi Germany. This comprehensive system, alas, enabled a most efficient transport of army troops as well as thousands of people to the concentration camps.
Despite the fact they were a crucial part of the Nazi war effort this part was never investigated in the Austrian railway system history research. That "hidden" part remained off bounds.
The subjects emphasized in this "The Austrian railway company is facing its past: 1938-1945" exhibition refer to the daily, everyday life of the railway company staff;
their role in collaborating and resisting the Nazi regime.
The darker sides of that past have not been forgotten: Confiscating Jewish property/belongings, immigration, deportation, special transfers, forced labor.
Rare documents and photos from the Austrian National Archive are shown in the exhibition next to testimonies given by survivors and by railway employees, who were working during that period.
The opening event of the exhibition was held last week, and was attended by the Austrian Ambassador to Israel, Austrian railways company executives, University Vice President and many other distinguished guests.
Pictures from the opening event of the exhibition >
Press coverage
Throughout the past week several articles were published in newspapers in Israel and Worldwide.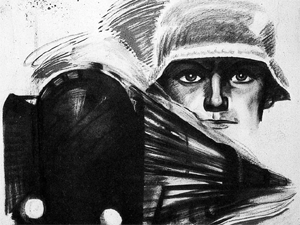 ​
We thank the following institutions for their support: Austrian Federal Ministry for Transport, Innovation and Technology (BMVIT), Documentation Centre of Austrian Resistance (DÖW), The World Holocaust Remembrance Center Yad Vashem /Jerusalem, House of the Wannsee Conference, National Funds of the Republic of Austria for Victims of National Socialism, Austrian Academy of Sciences, Sigmund Freud Foundation, Slovenian Scientific Institute Klagenfurt, US Holocaust Memorial Museum, vida Archives, VHS (adult education centre) of Roma in Burgenland, all national museums as well as town/city and provincial archives in Austria, Zentrum QWIEN, Austrian Embassy Tel Aviv, Austrian Cultural Forum Tel Aviv and many more. Project management: Ma Traude Kogoj Scientific consultant: Oliver Rathkolb Exhibition concept: Milli Segal oebb.at/verdraengte_jahre